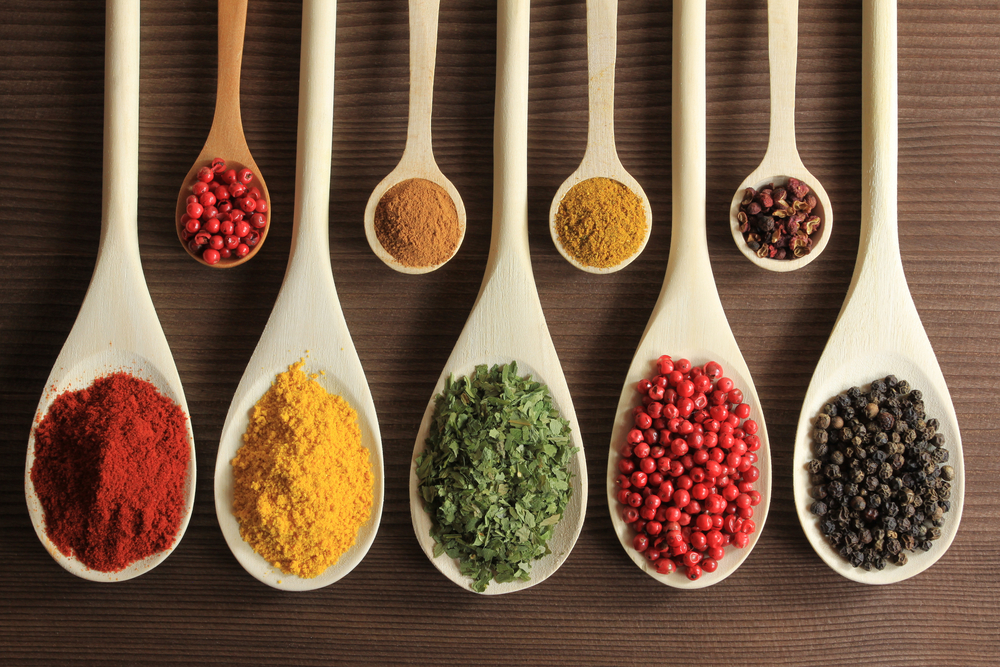 Whether stored in a drawer, cabinet or convenient Lazy Susan, spices and herbs are key ingredients to every kitchen. In most cases, they serve as a necessary component to a meal. Other times,  by adding a pinch here or a dash there can completely change the direction of your dish. From salt to sage and everything in between, here are 15 basic spices and herbs no kitchen should be without!
Kosher Salt
Whole Black Peppercorns
Cayenne Pepper
Chili Powder
Garlic Powder
Cumin
Curry Powder
Bay Leaves
Oregano (Dried)
Crushed Red Pepper
Thyme (Dried)
Rosemary
Basil (Dried)
All Spice
Sage
Beyond the Basics
Saffron, Star Anise, Wasabi Powder,  Panch Phoran and other uncommon spices might not be used in everyday cooking, but they just might inspire you to broaden your mealtime repertoire. Expose your family and friends to new flavors by building an entire dish around one unique spice. At a minimum, when stored prominently in a clear jar, these spices can add a colorful splash to your kitchen decor. Here are 7 more uncommon spices to keep in your culinary collection.
Green Cardamom
Black Truffle Salt
Fennel Pollen
Roasted Garlic Powder
Ghost chili powder
Chervil
Grains of Paradise
Creative Spice Storage Ideas
Are you looking for creative ways to store your spices and herbs? Kitchenland has you covered. Check out these clever and convenient Dura Supreme Spice Storage Solutions.