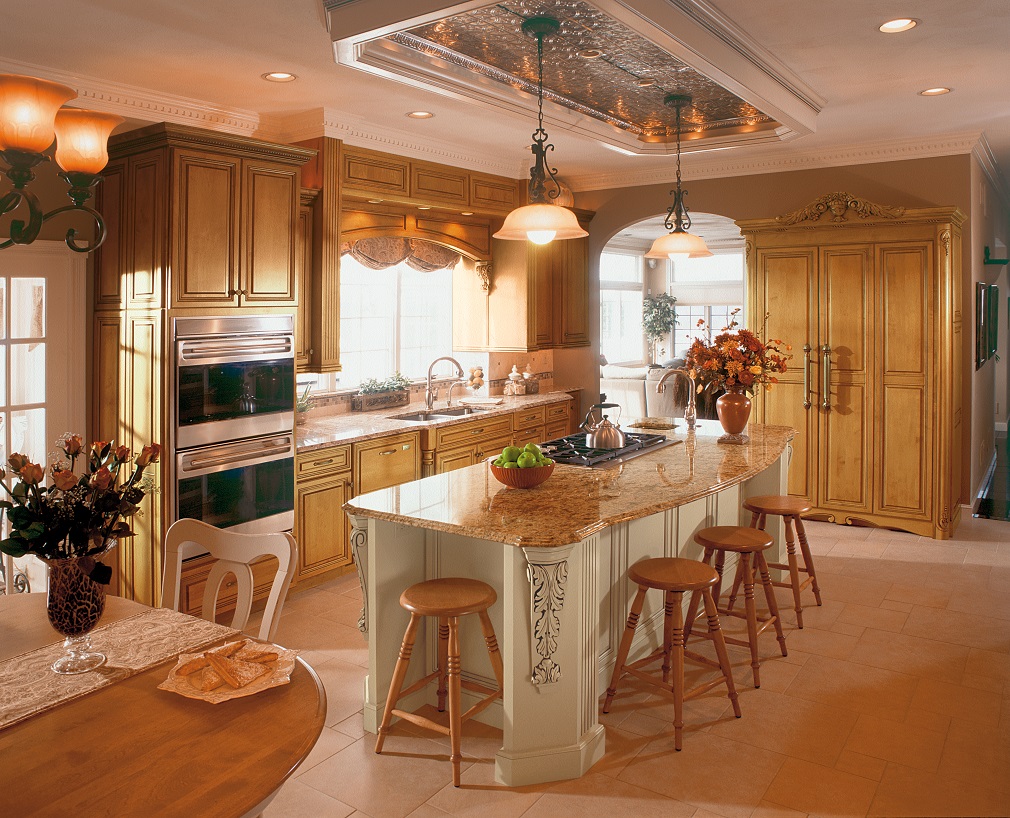 Nothing adds flair and functionality to a kitchen more than an island. These bodies of land located in the central point of a kitchen offer refuge for cooking, cleaning and counter space. If a kitchen remodel is on your horizon, set sail for an island retreat in your home.
Space Is Not An Issue!
Kitchen islands can take many shapes and sizes, so a small kitchen does not mean you have to kiss your "island dreams" goodbye. According to Better Homes & Gardens, small kitchens with U- or L-shaped layouts work best for kitchen islands. Before making a final decision, consult with a reputable cabinet dealership to determine all of your options before setting sail.
Don't Sacrifice Space For Splendor
No matter how important an island is to your "kitchenscape," it's more important to consider the functionality of your kitchen once you run ashore. An area for cooking, counter space or entertaining does you little good if you cannot reach all four sides of its shores. When planning your kitchen remodel, make sure you have at least 36 inches of walk space on all sides of the island.
Popular Kitchen Island Getaways
No matter how you use your kitchen, there are a variety of island types with a variety of purposes in store for you. There are standard pre-manufactured models available or you could go the custom-built route if your budget permits. You can even purchase portable islands to provide the "only when you need it" flexibility. Your island opportunities are seemingly endless! Below are some of the most common island getaways for your kitchen.
The Cooking Station Island
Incorporating a cooktop in your kitchen island can create additional cooking space or free up counter space along the kitchen walls. Depending upon the size of the island, installing a cooking station may limit its use for entertaining. Hot surfaces and cold drinks do not oftentimes mix. That being said, preparing meals in the central point of your kitchen can lead to a more convenient cooking experience. Installing a cooking station in your island would require installing a hood and vent, so keep that in mind with your kitchen plans.
The Entertainment Island
Creating a central point in your kitchen solely for entertaining is a widely-popular choice for many homeowners. Surround it with pub chairs or taller stools and you have the perfect place to serve cocktails, appetizers or an entire meal. For those with children, entertainment islands become the perfect venue for helping students with homework as you prepare helpings for dinner. Many people convert their island to be a full-service bar for those older "children" who come to visit. A downfall to this type of island is the risk of losing valuable cooking and storage space. Consider the size of your kitchen before choosing an island for this purpose alone.
The Multi-Tiered Island
If space is an issue in your kitchen, then installing a two- or three-tiered island is the way to go. Multi-level islands can provide much needed storage space, while still offering the surface area to prepare foods or entertain guests. As with many island types, these can be open or closed construction and incorporate cabinets, shelves and drawers. Depending on how elaborate you go, the cost of this island may hold a greater impact on your remodeling budget. Avoid assumptions and ask your cabinet dealer to outline the costs.
The Cleaning Station Island
Does kitchen cleanup in your home become even more a chore due to lack of space? Well, here is an answer. Building a kitchen island designed with a sink and dishwasher can make cleaning a more convenient experience. A cleaning station in the center of the kitchen also provides the necessary space for all diners to get involved in the cleaning chores. "No room in front of the sink," is an excuse you'll hear a lot less often with this island choice.
The Butcher Block Island
If you are seeking an extremely durable surface for preparing food without sacrificing your aesthetic appeal, then a butcher block island is made-to-order. Built with the end-grain of hardwood, this island solution can withstand the staining and scratching inherent in food preparation. Whether you purchase a standard or custom-made model, they oftentimes come with cabinet space, drawers, shelves and hooks to keep cookware and utensils within hand's reach. Unless you prefer an eclectic design approach to your kitchen, butcher blocks may not mix well with your existing cabinetry or countertops.
The Portable Kitchen Island
As the name suggests, the portable kitchen island is a free-standing unit which is easily removed when not in use. Although many styles come equipped with additional storage underneath, you definitely sacrifice the stability and possibly the aesthetics associated with other kitchen islands. Many small kitchen homeowners feel that portable islands are the only way to go. Check with your local cabinet dealer before giving up hope!