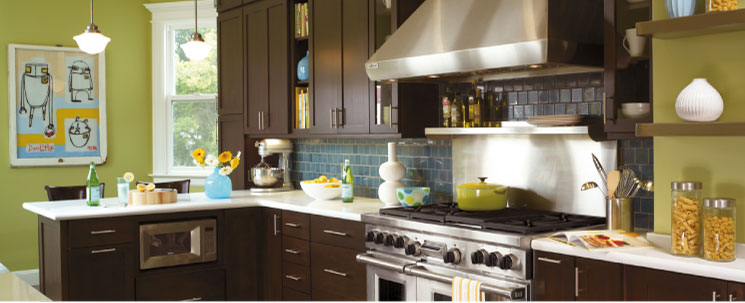 A fresh coat of paint can liven up even the most tired of kitchens. However, there's more to waking your walls, baseboards and ceiling then picking the paint color. Follow these helpful painting tips when stirring your sleepy kitchen.
Preparing Your Kitchen Canvas
Give yourself the best canvas for showcasing your artistic talents. First, determine what type of paint is currently on your walls. If it is oil-based, then you'll want to apply a high-adhesion latex primer before transitioning to a more environmentally conscious latex paint. Second, you'll need to clean and patch up the surface by following these tips below.
Be sure to fill or sand all scratches and holes.
Remove any signs of mildew by using a cleanser designed for this purpose or a mixture of bleach and water.
Lightly sand the surface to ensure a stronger adhesion.
Rinse with clean water and allow time to dry.
Have The "Prime" Of Your Life
Nothing will thwart your artistic expression more than by not applying a primer coat first. Choose super-adherent products to cover originally varnished or enameled surfaces. Primers with stain-blocking properties are perfect for hiding those stubborn spots you've been unable to remove with old-fashioned elbow grease.
Picking The Right Paint
Not only is the kitchen the most highly-trafficked area in your home, it also is subjected to a great deal of smoke, steam, grease and moisture buildup. For these reasons, choose a durable paint that is both washable and stain resistant. There are paints specifically-designed for kitchens, however traditional semi-gloss and gloss paints are a good alternative based on their durability and shine. Eggshell finishes are easier to clean, as well as being resistant to stains, while producing less of a sheen found in glossy paints.
Paint Your Personality!
You've prepped the surfaces and picked the right type of paint. Choosing the best color for your kitchen is where the fun really begins! Ask yourself the following questions.
What colors are the cabinets and countertops?
Are your appliances traditional white, sophisticated silver or classy black?
What are some of the most popular paint colors used in kitchen design photos online?
After answering these questions, disregard them completely! Painting your perfect kitchen is not determined by current cabinetry or the most popular design themes. Painting your perfect kitchen centers around painting your personality. You cook, eat, host and live in your kitchen, so pick a color that best matches who you are as a person. Find out what suits you best by taking the Find Your Color Personality Quiz.