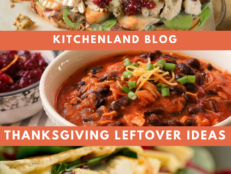 The hours of shopping, preparation, and cooking have come to an end. The guests have come and gone and now you are left with more turkey, stuffing, mashed potatoes, corn, mac and cheese, and cranberry sauce than you can imagine. Good for your wallet, you will have plenty of options for lunch and dinner the next few days with our Thanksgiving leftover recipes!
All recipes will depend on what you have leftover. If you have more ham than turkey, substitute. If you're not a fan of cranberry, leave out. These recipes are meant to serve as an inspiration and not a strict guideline for turning Thanksgiving dinner into delicious leftovers. Have fun creating!
The Day-After Sammy
The most popular of Thanksgiving leftover options – the unsung hero of Black Friday.
You'll need:
Turkey, ham, cranberry jelly (if it still has the can marks, you're doing something right), stuffing, greens, etc.
Tips
Spread some mayo on your bread and grill on the stovetop for a crispy crunch when you bite into it.
Heat turkey in its juices so that it soaks up the flavor and you don't end up with dry turkey sandwiches.
Put a spin on a French dip and create a Turkey dip. Pile turkey meat into a hot roll and dip into a mixture of warm gravy, cracked black pepper, and thinned out by turkey or chicken stock.
Everything is cuter in mini form. Try making sliders using last night's dinner rolls.
Elevate your sandwich by creating a garlic-herb aioli to spread. – Mince garlic, parsley, and rosemary, and add to ¾ cup of mayonnaise, a teaspoon of olive oil, add 2 ½ tablespoons of lemon juice, and salt and pepper to taste.
Toss greens in a cranberry vinaigrette before placing on sandwich. – Puree cranberries with some red wine vinegar, extra virgin olive oil and salt and pepper for an easy and flavorful dressing. Add honey for a touch of sweetness.
Comforting Turkey Chili
No one wants to cook the next day so why not just throw all of this in a slow cooker and let your dinner cook itself.
You'll need:
Leftover turkey that's been shredded, crushed tomato, tomato sauce, kidney beans, can of green chilies, cayenne pepper, diced onion, corn, black beans, and shredded cheese. Thin out with chicken stock if needed or thicken with a roux of butter and flour with a splash of chicken stock.
Throw everything into a slow cooker and put on low for 4 hours. Since turkey is already cooked, this recipe just calls for everything to marry together in one happy pot.
Top with more shredded cheese, sour cream, and green onions if you're feeling a little extra.
Thanksgiving Quesadillas
A little South-of-the-border flair on last night's leftovers.
You'll need:
Tortillas, shredded turkey, cheddar cheese or cream cheese*, spinach, canned cranberry sauce, diced jalapeno, onion powder, cilantro, green onion, lime.
Cranberry salsa
Take left over canned cranberry, juice of one lime, green onion, a pinch of onion powder, cilantro and pulse in a blender or food processor until minced and chunky but not liquefied. Add sugar if it needs a touch of sweetness. You can use this salsa as a dipping sauce for your quesadilla or spread in quesadilla while heating over stove.
*Why cream cheese? The cranberry salsa compliments cream cheese very well.
Gobble Bowl
This meal is for those who rise to the challenge of spending a day in pajamas and who don't mind their food touching. A "catch-all" bowl of all the delicious leftovers you have.
You'll need:
Dinner rolls and all the leftover side dishes; think stuffing, mac and cheese, mashed potatoes, green bean casserole, sweet potatoes, gravy, turkey, etc.
Split and press/flatten dinner rolls on the bottom of a bowl. Layer leftover goodies to your liking and top with gravy or cranberry sauce!