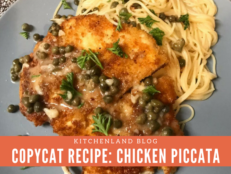 Recently a friend of ours went back to their hometown for the holidays. They were so excited to catch up with family over a meal at one of their favorite restaurants. They already knew what they were going to order, but when they opened the menu, it was gone, their favorite dish – Chicken Piccata was taken off the menu. "How could they?" our friend thought. They were looking forward to enjoying that dish as soon as the flight home was booked. Thus, the night had to go on and they had to order something else. When they returned to Las Vegas, they decided that they missed the dish so much they were going to look up a recipe and try to recreate it on their own. Much to their surprise, it turned out pretty darn good and it was a lot easier than they thought!
We call this Charleston's Chicken Piccata Revival.
Serves 4
Ingredients
1 box Angel hair pasta
2 cloves garlic, minced
1 3.5 – 4oz jar of capers
½ cup of chicken stock
1 stick of butter
1 large lemon
2 thick chicken breasts (fileted and pounded into 4, ¼ inch pieces)
1 8oz box of Japanese Panko bread crumbs
2 eggs
1 cup of flour
Vegetable oil
Salt and pepper
Variations:
Looking to save dishes? Use one pot (start with cooking pasta, then fry chicken, then make the sauce)
Looking to cut calories?
Use less butter, don't dredge the chicken in flour, and only use egg whites and panko. Use whole wheat pasta or ditch the pasta all together and serve with roasted potatoes, a side of asparagus, or over cauliflower mash.
Directions
Boil water in a pot and cook pasta to directions on packaging. Drain pasta when finish and set aside.
Take the thin, 4 pieces of chicken and dredge them in flour, cover in egg wash, and then coat in panko.
Pour a quarter inch of vegetable oil into a medium skillet and heat to 350F degrees. Cook chicken on each side for 3 minutes or until golden brown. Repeat until all chicken is done cooking and set aside.
In the same skillet, add half a stick of butter and garlic.
Rinse the capers in water to get rid of the brine/vinegar flavor. If you like that flavor add a little bit to the mixture.
Add the chicken stock, juice of lemon, salt, and pepper to taste and the remaining butter and bring to a simmer.
Slice chicken into strips or cut breast pieces into two and plate on top of pasta.
Pour sauce over chicken and pasta and serve immediately!
Do you have a copycat recipe from a restaurant that you love? Share it with us, with the permission to post and you could see it on our blog!