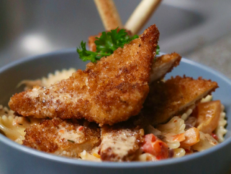 Crispy Cajun Chicken Pasta. It's hearty, creamy, comforting, crispy, and has just the right amount of heat! Upon a recent trip to a factory known for its cheesecake… (get it? The Cheesecake Factory) we had this dish and could not stop thinking about it afterward. Thank goodness for their large portions so that we were able to take some of it home. Though once it was all finished we wanted more, so we decided to recreate it and our homemade, copycat version turned out pretty tasty!
There are easy swaps to make if you are vegetarian or want a lower-calorie version. We'll state those swap outs below.
Serves 4-5
Ingredients
1 box of bowtie pasta
3 cloves of garlic, diced
1 red bell pepper, diced
1 yellow bell pepper, diced
1 package of sliced mushrooms
2 thick boneless, skinless, chicken breasts (cut in half, or 4 thin breast filets). You can substitute an eggplant for the chicken breasts to go vegetarian
2 cups Panko Japanese breadcrumbs
2 cups all-purpose flour
3 large eggs
1 cup chicken stock, substitute vegetable stock if going meatless
1 cup heavy cream or 2% or low fat milk for lower-calorie option
2 T of Cajun seasoning, you can start with one tablespoon for less heat and add to taste. We used Weber "N'Orleans" Cajun seasoning but if you wanted to make your own it is simply a mixture of garlic powder, onion powder, salt, pepper, paprika, cayenne pepper, dried oregano, and thyme. OPTIONAL: add crushed red pepper for additional heat
Vegetable oil, for frying
Parsley for garnishing
Directions
Bring a pot of water to boil, when it reaches a boil, add pasta and cook according to recommended time on package. Set aside.
Pound the chicken into ¼-inch pieces and season with salt and pepper.If using eggplant as a substitute, cut into ½- to 1-inch thick round slices and follow instructions for coating below. If going the lower calorie route, grill chicken or saute it instead of coating and frying it.
Pour the vegetable oil in a medium depth pan and turn stovetop to medium heat until oil is between 350 – 375 degrees.
Pour flour into a shallow container and season with salt, pepper, and a few dashes of the Cajun seasoning.
Beat the eggs in a separate shallow dish.
Pour the Panko breadcrumbs into a separate shallow dish.
Dredge the chicken filets in the flour, dip in the egg mixture and coat with the Panko breadcrumbs.
Once oil is at ideal temperature, place coated chicken filets in the pan and cook on each side for about 3-4 minutes until golden brown. Repeat until all chicken or eggplant is cooked.
Set chicken or eggplant aside and remove excess oil until there is about 3 tablespoons of oil left in pan.
Use that oil to sauté your garlic and bell peppers and mushrooms.
Once vegetables are soft, add chicken (or vegetable stock) and heavy cream (or low fat milk).
Bring to a simmer and add the delicious Cajun spices. Taste to see if heat level is to your liking.
Add cooked pasta and mix.
Plate pasta first then add a piece of crispy chicken goodness (sliced at an angle) on top of the pasta and add more cream sauce.
Garnish with parsley.
Now you have the perfect social media #foodie picture and your friends will be wanting to come over for dinner!